When it comes to capturing leads, collecting valuable customer feedback, or securing personal data - forms have been highly regarded as a timeless gold standard (even back when they were made of paper).
Forms have come a long way since then, and we now have the ability to use them in so many more ways than you'd think. Jotform provides a comprehensive form building platform with features that allow you to use conditional logic, accept payments, generate reports, and automate workflows.
Integrating the platform with the HubSpot CRM means you'll be able to make the most of all form submissions - not only by keeping everything in one secure place, but also by implementing enrollment triggers for workflows to simplify parts of the process.
Keep reading to find out more about why you should integrate Jotform with HubSpot, as well as a simple step by step guide for getting set up.
Why integrate Jotform with HubSpot?
HubSpot is arguably the most comprehensive CRM available, but the platform has specific user rules around the type of data you can and can't store. Storing personal medical and financial data goes against these guidelines, which is a bit of a deal-breaker for businesses looking to centralize this information.
This is where Jotform comes in - by integrating the two platforms, you're able to host highly sensitive data according to HIPAA guidelines, with only relevant information filtering through to HubSpot.
Jotform also allows you to carry out advanced form functions such as e-sign, payments, offline form submissions, conditional logic, conversational forms, as well as the ability to upload photos for devices. This creates a powerful one-stop-shop for simplifying the management of information in a way that's not only compliant, but easily referenceable as well, thanks to the seamless flow between platforms.
Additionally, Jotform Tables provides a customisable database that gives you easy access to the facts and figures that you need, when you need it. This is particularly useful for merchant banks, real estate agencies, medtech companies and other businesses handling huge amounts of personal data.
How to integrate Jotform with HubSpot
The integration is simple and well-supported, and the no-code installation means you won't need a developer to get set up. Before you get started, it's important to have a clear understanding of where you want information to flow. Enrollment triggers and workflows will keep things streamlined, so it's a good idea to be mindful of this beforehand, in order to get the most out of the application.
Get set up in 5 simple steps:
1. From the Jotform form builder, choose the form you'd like to work with and head to the settings section. Click on the 'Integrations' tab - with a quick search, you'll find the HubSpot integration.
2. Click Authenticate, and then sign in to your HubSpot account when prompted.
3. Next, you'll be able to match your Jotform form fields to your contact list on HubSpot. This is where you'll be able to choose the specific fields that you want to be pulled through to HubSpot.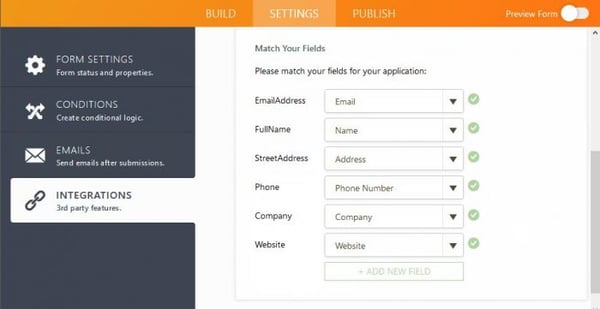 4. Click Complete Integration, and once successful, click Finish!
5. From there, you can publish the form, and test it to see how effortlessly the information flows through to your HubSpot account.
Now that you're all set up, and you've tested a simple form, you'll be able to use HubSpot to set up enrollment triggers for workflows. Let's say you built a form to generate leads - a simple example of a workflow would be if a contact submitted a form to show interest in a certain product, you could use the form submission as a trigger to change the customer lifecycle stage to "sales qualified lead" in HubSpot.
Get started with Jotform today
When all of your tools work together, you save valuable time and effort each week by eliminating unnecessary tasks and admin. By integrating Jotform and HubSpot, you'll not only have a secure and easily referenceable hub to store data, but you'll also be able to generate more leads and close more deals. Click the link below to sign up to Jotform, and start collecting powerful insights today.