With the release of the highly anticipated CMS Hub Starter, we thought we'd go over some of the key products and features that makes this release so exciting for SMBs.
CMS Hub Starter is a simple web content management system that allows marketers and developers to leverage the full power of the HubSpot CRM platform to generate business and nurture leads through their website. It provides the tools and features to easily build fast, secure and reliable websites that not only look good, but are located in one highly secure CRM, and will scale as your business grows.
Keep reading to find out more about this game-changing release.
1. It's fast, secure, and reliable
CMS Hub Starter provides you with a fast, secure and reliable website, without having to worry about third party plug-ins that are costly and potentially dangerous. Being a SaaS CMS, it comes with high level security through SSL, a web application firewall, and a globally hosted CDN with 99% uptime the second you go live. Not to mention the maintenance team working around the clock to ensure 24/7 security monitoring and threat detection in the background.
When compared to something like WordPress, while being an open source platform can have it's benefits, it also means that security and maintenance is left up to you - and if you're not an IT professional, this can be a little bit daunting. There are many plugins to choose from, but security isn't something you typically want to leave down to trial and error.
With HubSpot's CMS Hub Starter, updates run automatically in the background, leaving you with more time to connect with your customers, reach your target audience, and meet your business goals.
2. Easily build remarkable websites
A CMS needs to be powerful, but easy to use for both marketers as well as developers. Most CMS's will either include simple features like drag and drop modules, which allow marketers to quickly create content, but won't include any developer tools. The alternative is usually a complex CMS that requires the expertise of a developer, and leaves your marketer out of the loop.
This diagram gives you some insight into how HubSpot's CMS creates the perfect balance for marketers and developers to work alongside each other.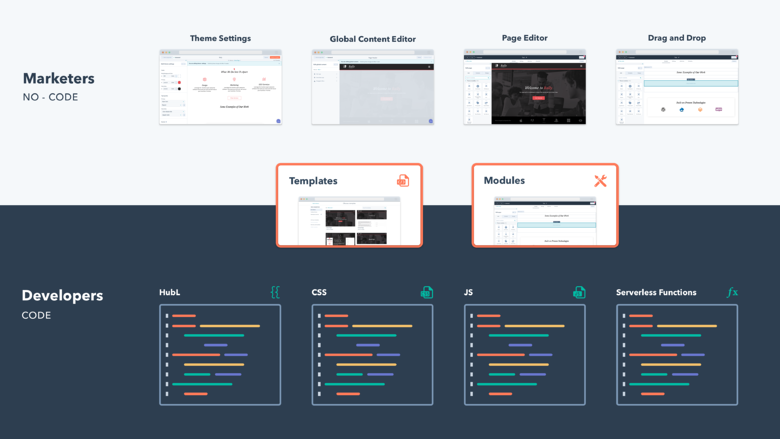 HubSpot's CMS Hub Starter provides a solution for both marketers and developers by giving developers the tools, technologies and workflows that they're used to working with, as well as giving marketers the ability to take ownership of your website with creative features that change the look and feel of the site as they see fit, freeing up your developers to work on higher impact projects.
Developers can work in close collaboration with content creators to get an understanding of their needs when it comes to the page building process and experience, to create flexible themes for marketers to work within. This way, your content creators will be able to work independently without needing much ongoing support and maintenance from your developers. Take a look at how simple it can be for content creators in the following example.
To get a developer's perspective, we spoke to Jason here at Hype & Dexter:
"HubSpot CMS is designed for content creators and marketers, and that's achieved by giving developers the tools to facilitate long-term use. If you have a good theme set up you can use it for many variations — I'm impressed by the flexibility. Compared to other CMSs that I've used in the past, CMS Hub allows you to build super dynamic sites built on great foundations. With something like Wordpress, you get a very narrow path for customisation, whereas with CMS Hub, you have the freedom to build truly unique sites."
When comparing the ease-of-use to a CMS like Drupal, managing this complex CMS without developer assistance is a big challenge and a steep learning curve for anyone without prior programming experience. Again, there are many plugins available to help, but being custom-coded, it's difficult to find something that doesn't need to be modified to fit the requirements of your website. Additionally, most of these plugins come at a cost. One other challenge that comes with a CMS like Drupal when compared to CMS Hub Starter is the limited modules, especially considering third party modules can often slow down the performance of your site.
CMS Hub Starter will help remove gatekeepers from your content creation process so your team can react quickly to deliver a better customer experience.
3. All-on-one powerful CRM platform
One of the biggest advantages of CMS Hub Starter, and HubSpot in general, is that everything you need is managed from one single location. Having your CMS sitting alongside your Marketing, Sales and Service Hub, lets you leverage customer data to inform your decisions, and understand exactly what is resonating with your audience.
This is possible not only because CMS Hub Starter is backed by the power of a full CRM, but also includes features like:
Conversations
Ads
Email marketing
Forms
Facebook messenger integrations
Video hosting
Unlimited CRM users
Chat & email support.
Web analytics reporting
With CMS Hub, you'll have all the tools you need to not only create a beautiful website, but use it to start growing your business by making informed decisions backed by accurate reporting and analytics.
CMS Hub Starter is the perfect solution for small to medium businesses who want to build highly functioning and reliable websites that are inherently secure, without having to worry about the maintenance of a Frankenstein CMS with a number of questionable plugins. Using CMS Hub Starter gives marketers and developers the confidence and tools to provide customers with a seamless digital experience.
If you're looking to create slick yet easy-to-manage websites for your business, get in touch with us today. From design concepts and wireframes, through to full custom development, we work with you to develop a bold new website that will take your business to the next level.