In this post I'm going to take you through how to create a customer journey that resonates with your personas to help take them from strangers → visitors → leads → customers → promoters.

Here's the customer journey through the four stage funnel Ryan showed you a few emails ago: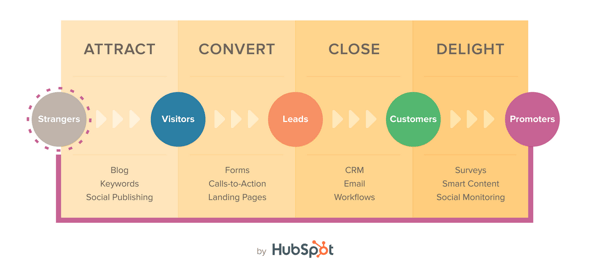 Mapping out your customer journey will help you ensure that you are looking at the entire customer engagement and your end goals. Because inbound is all about delivering the right message via the right channel at the right time.

It's typical for companies to spend a lot upfront in advertising and buying clicks but, without a solid customer journey to nurture and convert the customer, those clicks can just be a big waste of money.

We know that nurturing works:
Nurtured leads produce, on average, a 20% increase in sales opportunities versus non-nurtured leads.
(Demand Gen Report, 2014, source)


So it makes no sense to neglect this phase of the funnel, but that's what most companies do:
For every $92 spent acquiring customers, only $1 is spent converting them.
(Econsultancy, 2016, source)
I mean, seriously? That's nuts.
It pays to define your customer journey
So first off, select the persona or personas that you are designing the journey for. Next define the following for each of the stages of the inbound methodology (Attract, Convert, Close, Delight):
Desired outcome
Message
Experience by channel
For example here is the attract and convert phase of the customer journey you have already been on with Hype & Dexter: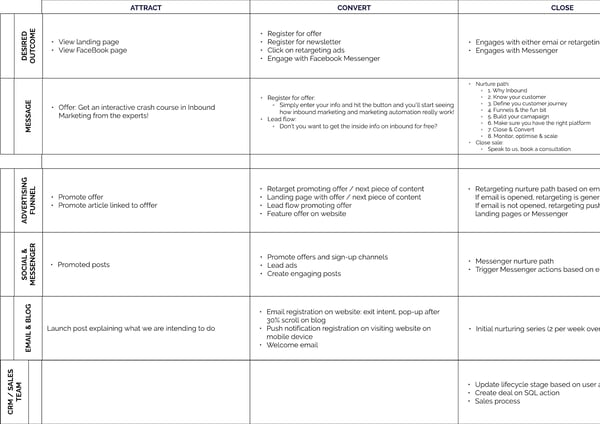 It's also incredibly useful to present this information in a flow to show each key touchpoint throughout the journey. Here is your current customer journey so far, as a flow diagram: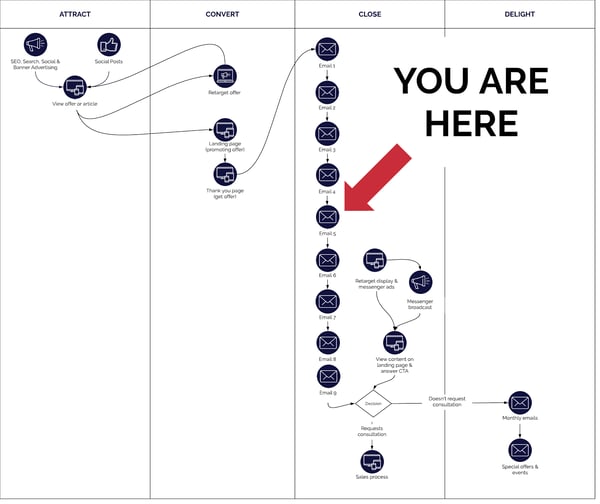 Pretty cool huh! As a visual person I find that this helps me the most – I can see exactly what is going to happen and when, in the course of a campaign.


Creating a great offer
Offers have always been a key part of effective marketing, and they are the gateways to online lead generation. Without them, your site visitors have no incentive to give you any info (like an email address) in order to become a lead. They are also a critical tool for nurturing existing leads into a position that makes them more sales-ready.

Your customer journey should provide a quality offer at the convert phase. It is also recommended that further value is added throughout your close phase/nurturing flow, such as the ROMI calculator Romi gave you earlier!

Examples of offers
Ebooks, Guides, Slideshows, Kits
Webinars (Live & Archived)
Industry Case Studies, New Industry Research
Templates, Free Tools, Calculators
Free Trials, Product Demos, Consultations
Coupons (discounts, free gifts)


What makes a good offer
High quality and valuable to your target audience
Aligns with your organisation and what you offer
Targeted to the right buyer persona at the right time
Implementing your customer journey
So now you know your desired outcomes, messages and experience per channel for each stage of your customer journey. Now it is time to put the journey into action and start designing your campaign!

In the next post I will walk through the various elements that make up a quality campaign and how they work together to drive quality leads for your organisation.
Keen to learn more and get building your first inbound funnel? Check out our Ultimate guide to creating your first inbound marketing campaign

Talk soon,

Alex