Powerful Enterprise-level marketing automation, without complexity.
That's the promise of the much-anticipated changes that HubSpot just announced to their Marketing Hub Enterprise software.
As much as we love having the input of data and development specialists, it would be nice if Marketers didn't have to rely on them entirely to do things like testing and optimisation, set up chatbots, and to be able to get meaningful insights from attribution and reporting.
So with that in mind, here are just three of the many new features announced that got us excited:
Multi-Touch Revenue Attribution
We all know there are problems with looking at first or last touch attribution in isolation.
HubSpot's multi-touch attribution modelling will allow you to see all the touchpoints that contribute to customer revenue in an easy to read way, with lots of options for different visualisations available.
You'll find it in the reports library, and the UI is a little different to the rest of the reports, so it may take some getting used to, but there is a video walk-through in there and it doesn't seem too difficult to configure.
There are six attribution models you can base your reporting on:
Our advice is just to get started! You might not get the model or the visualisation right straight away, but you won't know what works for you unless you start. The important thing is to get it right before you start basing any critical decisions on it. That shouldn't be too long, especially if you have the team here at Hype & Dexter help you get set up!
Customisable Chatbots & Advanced Chat Targeting
When HubSpot launched its chat functionality in late 2018 it was great in that it gave you the ability to enable live and bot based chat experiences out of the box, and keep all those interactions in the same ecosystem.
But what wasn't so great was that it by no means offered an alternative to more advanced, dedicated chat software like Drift, Intercom or ManyChat.
This realise changes that by introducing Facebook Messenger functionality (that could replace ManyChat in most cases), as well as allowing code snippets and webhooks.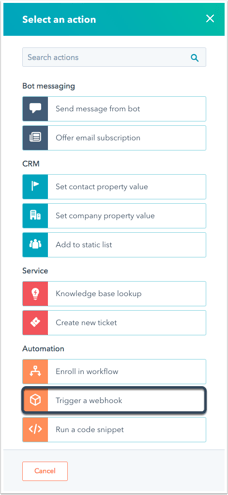 Triggering webhooks from chat means you can now request and fetch data from other sources and systems. There isn't loads of info released on this one yet, but if you're in e-commerce for example, and someone in chat was asking for an update on their order. You can now request that info from your inventory management software and serve it straight back to the user in the chat environment. Just one of many very handy applications we're sure!
When it comes to targeting, we are now going to be able to go beyond the basics of Chatbot A being served on this URL and Chatbot B on another. Unique chatflows will now be able to be triggered on a visitor's location, page scroll behaviour, referral source (meaning you could have contextual chat based on the channel or even ad that just brought them to your site!), and more.
Team-Based Partitioning
This is essential for the Enterprise level businesses we are working with who have multiple business units, distinct B2B and B2C marketing teams, and even different marketing teams in different territories.
Your marketing assets can now be much better organised within the HubSpot portal, meaning less wading through what doesn't belong to you to find what you need, and just a clearer line of site of all your assets. A real time and productivity saver at the very least.
Notable mentions of some of the other cool features


Adaptive Testing
Manually setting up A/B tests to measure simple changes to layouts, images etc could be a thing of the past with this feature. Turn it on and you'll instantly have up to 5 variations of your page running to see what converts best.


Account-Based Marketing
This one is still in beta, but it promises to help you get an AMB strategy going in far less time it would usually take you. It gives you tools and templates, company scoring metrics and reports that are ready for you to pick up and run with.


Custom Event Triggers and Reporting
This one is a bit clever. Imagine being able to trigger an email to a contact inviting them to catch up about getting the best pricing because they visited your pricing page but left without converting. That's just one of the many possibilities with this feature.