Hype & Dexter are officially the exclusive New Zealand launch partner for HubSpot's game-changing new sales enablement platform – Sales Hub Enterprise.
Introducing Sales Hub Enterprise
Sales Hub Enterprise gives advanced sales organisations all of the CRM and sales acceleration tools they need in a single package — all without making life complicated for you, your team, or your prospects.
Check out the main features:
Playbooks - Build a library of sales best practices and resources. Use rules-based automation to surface recommended content to your sales team, right inside of HubSpot.

eSignature - Collect signatures on quotes and other documents right within HubSpot and speed up your sales process.
Approval Management for Quotes - Require approval for quotes that meet certain criteria, like percentage discounts.
Call Transcription & Recording - Let HubSpot conveniently transcribe any recorded call right inside your CRM.
Quota Management - Measure your sales and services team's performance on a granular level with period-based quotas and SLAs.
Revenue Tracking - Manage recurring revenue and renewals right inside of HubSpot with improvements to revenue tracking and reporting.
In addition to the above, all of the platform capabilities, like teams, single sign-on, predictive lead scoring, custom events, custom property search, calculated roll-up properties, Slack integration, and more are also included in Sales Hub Enterprise.
Growth Suite Bundle now available
The new Growth Suite bundle gives you access to all of HubSpot's marketing, sales, and customer service software — it's fully integrated and right now it's discounted at 25% off their standalone prices.
It's designed so that your teams, tools, and data are always connected, so you can grow bigger, and grow better.
The Growth Suite:
Supports everyone on your team in a single, integrated system.
Is built on top of HubSpot's free CRM, so you have everything you need to organise, track, and build better relationships with contacts at every stage of their journey.
Is available for purchase in Starter, Professional, and Enterprise editions so you can choose the plan that suits your needs today — and grow into a plan that will support you tomorrow
Read more from the HubSpot website...
New Enterprise-Level Features
As well as Sales Enterprise HubSpot announced a brand new lineup of features across the enterprise editions of marketing and customer service to provide a more robust and sophisticated toolset.
You'll enjoy more control, greater flexibility, and deeper integrations — all without making life complicated for you, your team, or your customers.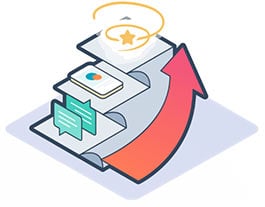 Your marketing team will run more advanced campaigns with Facebook Messenger tools, continuous A/B testing, email throttling, and more.
Your customer service team will better serve your customers with advanced tools like health scoring, goals, workflow extensions, and more.
Read more from the HubSpot website...
Video Creation, Hosting, and Management
At last! HubSpot now offers native video functionality. And even better, it's across marketing, sales, and customer service platforms. With functionality that includes video creation, hosting, management, and measurement, you'll be able to elevate your video strategy across your entire business to match how people watch video today.
HubSpot's new video tools mean …
Your marketing team will finally have all the tools they need to create actionable, automated, ROI-positive video campaigns that include built-in CTAs and forms.'
Your sales team will build stronger relationships with prospects through authentic 1-1 video emails.
Your customer service team will help customers faster using personalized 1-1 video tickets.
Read more from the HubSpot website...
What do you think of the new features?
We'd love to hear what you think, so please comment below.
If you have any questions about the new features, please Book a time with Nick to go through them and make sure that you're getting the most out of HubSpot.