You should now be familiar with the inbound marketing funnel – you've been through most of it! You are now in the 'close' phase which means you've demonstrated a real interest in Inbound Marketing and how to do it properly. The final piece for you to learn is how inbound sales fits into the methodology.

I've been a Sales Director of several companies, and a Managing Director responsible for revenue growth in many more, so I have seen the changes of the past decade and how it has impacted the way businesses reach customers.

Just like I did, you might be finding your customers harder to get in front of and more difficult to close.


38% of salespeople say getting a response from prospects is getting harder and 35% of salespeople say closing deals is getting harder.
(HubSpot, 2017, source)



Due to the volume of information available online, modern customers are now armed with more information than ever before and are no longer dependent on a sales person to help them with their buying decisions.

More than this: if they choose to engage with a sales person they expect to have a personalised conversation with someone who understands the specifics of their requirements.

The truth is that traditional ways of selling have become less and less effective. We've learnt through our own experience and that of our clients that a salesperson is lucky to get 5 out of 100 calls to even answer the phone… let alone get a chance to pitch. Companies need to change the way they go to market or face the very real prospect of having less and less customers to sell to each year.
Why the Inbound Sales Methodology is the answer
Digital marketing now allows your business to be actively sourcing qualified leads round the clock… but how do you ensure you maximise your opportunity to close these leads?

By developing an inbound sales process that supports the prospect through their buyer's journey, you ensure that your sales and marketing efforts align as buyers move through the three stages of the inbound process that you've already learnt about: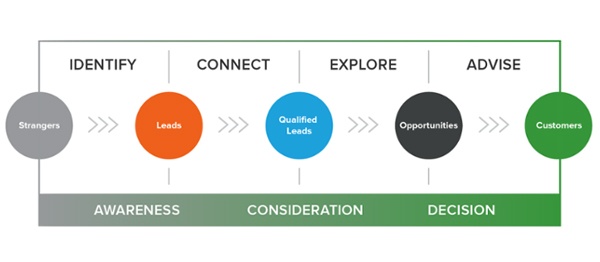 As you can see above, there are four actions your inbound sales team can take to support qualified leads into becoming opportunities and (eventually) customers:

Identify, Connect, Explore, Advise

"Ok, that sounds great but how do I build a sales process around the buyer's journey?"
Begin by prioritising prospects who have already begun the buying journey – there is no point chasing tyre kickers. If you've got your inbound marketing right you should have leads you can identify as 'active', and you'll be serving them with great content and offers that are relevant to their needs.

The trick then becomes how you move get to actually purchase with you. But before I get into our four stage sales process, let's talk a bit about salespeople...The easiest way to assess what good inbound sales people look like is to do a side by side comparison to traditional sales people:
| | |
| --- | --- |
| Legacy Salespeople | Inbound Salespeople |
| Are unaware of which buyers are active in a buying journey | Prioritise buyers that are active in a buying journey |
| Use cold outreach and lead with a generic elevator pitch to qualify on budget | Build trust by participating in the buyer's online conversations and lead with personalised messaging and advice |
| Transition into presentation mode when a buyer expresses interest | Transition into exploration mode when a buyer expresses interest |
| Deliver the same presentation every time and offer discounts to motivate buyers to purchase on their timeline | Personalise the presentation to each buyer and adjust the sales process to the buyer's timeline |
See the difference? It's all centred around the needs of the buyer rather than the needs of the business. But, of course, it's for the ultimate benefit of the business in securing more sales, repeat purchase, and consumer advocacy.
The 4 Inbound Sales Stages (and what to do!)


1) Identify
Identifying the right business opportunities is the key to high conversion rates. Knowing your prospect's company size, key decision makers, industry and propensity to buy will help your salespeople create a predictable, scalable and profitable sales pipeline. You will have learned much of this via data capture as part of your inbound marketing, and you'll know where in the funnel they sit.

Most buyers are already in the awareness stage of the buying journey before they engage with salespeople. You want your salespeople to prioritise active buyers ahead of passive buyers as they have a better chance of converting. Where a traditional salesperson might prioritise a large buyer over a smaller one, the inbound sales person looks to prioritise based on their buying stage and propensity to close.

This doesn't get the salesperson off the hook for doing 'cold work' but the way they do it changes and requires a bit of proactiveness. The salesperson needs to research their prospects, make a point of asking for introductions on LinkedIn or set up intros via networking events. The trick is that this 'cold work' is then supported by the rest of the inbound methodology as the contacts made by the salesperson become website visitors.

2) Connect

Inbound salespeople connect with leads to help them decide whether they should prioritise the goal or challenge they're facing. If the buyer decides to do so, these leads become qualified leads.

Legacy salespeople tend to use phone and email to reach out to cold leads and then do their best to convince the prospect that they should buy from them with a generic, one-size-fits-all pitch.. The inbound salesperson will lead with a message personalised to the buyer's context (industry, role, interests, common connections, etc) with the goal on entering that prospect into a 'sales sequence'.

This sequence is a series of client contacts where the aim is to NOT sell them. If your identification stage has been done well your prospects are likely to be in the 'awareness stage' so the goal now is to educate them on the opportunity they have in front of them or the problem they are trying to fix.

3) Explore

This is the part that traditional salespeople have the most issue with. In the 'explore' phase you need to have the confidence to walk away from a sale if your offering isn't a suitable fit for the prospect.

This is often counter-intuitive.

However it is a strategy that creates congruence in your selling, as you are qualifying your prospects goals or challenges and assessing whether you can assist... Rather than trying to ram your product down their throat.

The key to doing this well is to position yourself as an authority and guide the exploratory conversation so that you're in control and your prospect feels like they're being empowered to make the right decisions.

Here's how I like to do it:
Focus on the prospect's challenges first.
Connect goals with those challenges.
Share plans that fit the prospect's timeline.
Discuss budget.
4) Advise
This is the fun part we know formally as 'Closing'! Inbound salespeople advise prospects on why their offering is uniquely positioned to address the buyer's context. By sticking to a generic script, legacy salespeople fail to represent their strategy as a solution to their prospect's specific needs.

71% of companies say closing more deals is their top sales priority.
(HubSpot, 2017, source)


As an inbound salesperson, you serve as a translator between the generic messaging found on your company's website and the unique needs of your buyer.

To start your 'advice' provide a recap of what you've learned, do this at the beginning of the presentation so you clearly restate where the prospect is now and the insights you've gleaned from your earlier conversations.

Once you've covered the 'recap' move to suggesting ways your prospect can achieve their goals. Make sure your presentation connects their goals and challenges to your offering, and shows exactly how they'll benefit with your service.

Lastly, confirm budgets, authority and timeline. Based on what you know it takes to set up their account and implement your solution, work backwards to determine when they need to sign your contract. I can't stress the importance of this enough; outline a timeline that meets the buyer's deadline and then use that as 'urgency' to assist with getting prospect sign off.

The New Way of Selling
The Inbound Sales Methodology covers every step of the buyer's journey travelled on the road from stranger to customer, and each corresponding salesperson action.

By this point in your own journey you are no longer a stranger. We have already identified key points that enable us to better connect with you. We have automated several aspects of this funnel to build a profile of you.

We can use these data points, and many more that are all gathered by our CRM to know when and how to reach out to you as a prospect. It saves us time and energy going after the wrong leads, at the wrong time, with the wrong message.

But the methodology acknowledges that Inbound Sales doesn't just happen, it's you that converts and closes them. But to be able to do it, you need the right tools to personalise the sales process and appeal to precisely the right leads, in the right places, at just the right time in their buying journey.

If you're closing your leads then fantastic! You're doing 3/4 of the inbound methodology correctly. The last quarter? Well, that would be a whole new course!
Until then, best of luck implementing Inbound in your organisation, and if you need to chat to anyone about the good, the bad or the ugly that you're experiencing, get in touch.
Ryan