You've probably heard a lot of noise lately around the new HubSpot Sales Hub Enterprise features that are being rolled out from now onwards. We think there's a good reason for the noise too; HubSpot is taking on the traditional 'Frankenstein' CRM challenges head on and putting in place solutions that have everyone in the sales and marketing industry turning heads.
So, as a HubSpot Diamond Partner and huge fan of the new changes, here's a break down of the features we're most excited about and what they mean for current and future businesses we work with - featuring commentary from our very own (and very jazzed) Sales Director, Nick O'Neil.
We've also partnered with fellow CRM implementation experts egaging.io to cover the whole range of features announced this year at Inbound 2020, so check out their Top 5 list as well to see what's getting their team excited for the future of CRMs.
Skip to a Specific Feature
1. Record Customisation
(available in Sales, Service and Marketing Hub Enterprise)
Brand new feature number one that's impressed the team at H&D is the option of record customisation.
"Keep your team organized with asset partitioning. With asset partitioning, you can make sure that teams only see the data, content, and assets that are relevant to them and their role. Sales Enterprise admins can control access to dashboards, lists, workflows and more." - HubSpot 2020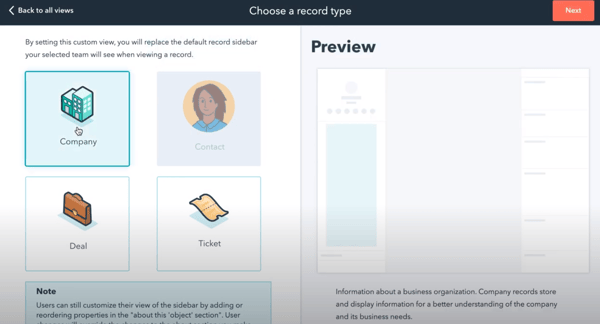 What this means for our current and future clients:
You'll have the ability to set up additional panels so you can control and customise the key info you want to see in a contact/company/deal/ticket record
You can customise the sections you see - not just properties
This allows for combinations of team rules PLUS other things like deal pipeline stage
Why we're so excited about this:
This allows clients to set rules for individual people/clients which gives you more control over who can see what information and lowers chances of data leaks or confidential information being shared between organisations.
2. ABM (Account Based Marketing)
(available in Sales, Service and Marketing Hub Professional & Enterprise)
Account based marketing is a brand new feature being rolled out this year that's going to help not only our customers, but the H&D team as well.
"Unite your teams, unlock your potential. Sales Hub Enterprise includes ABM tools that help marketing and sales teams work together to prioritize the right accounts, personalize outreach, coordinate engagement, and easily measure performance." - HubSpot 2020
What this means for our current and future clients:
Sales and Marketing alignment is an area more and more businesses are focusing on as they move away from departmental silos and into a unified focus to serve their customers and generate revenue
Typically, marketers are beginning to find results from inbound are flattening. That being said, they still want to capture leads who are actively looking for information on what they do. Think of inbound as your fishing net that will generate you revenue from customers who are actively looking for your product / service.
ABM is a more forceful way of generating revenue, think of it as fishing with a spear gun. You're going to know the exact kind of client you want and you target that account with relevant, personalized outreach.
Why we're so excited about this:
We see traditional inbound like fishing with a net, you have the right bait and you know where the fish are. With ABM you are going to looking for particular species of fish. You have the fish finder, you know what they eat and where they hangout. We go after them with a speargun rather than net!
3. Improvements to the HubSpot Mobile App
"Work and sell from anywhere with the latest improvements to the HubSpot mobile app. The all-new mobile activity feed matches the experience on desktop, including the new "today" view, so you can stay on top of the most pressing prospect activities on the go. Review and execute tasks in a few quick taps and send tracked emails effortlessly with access to email templates and meetings links in-app.

Plus, the new HubSpot keyboard gives you access to all of your favorite sales content as you work in other apps like Messages, WhatsApp, Slack, and more." - HubSpot 2020
What this means for our current and future clients:
One of the only complaints our clients have had with the HubSpot app is the consistency of the UI and experience when compared to desktop. The critical components of this have now been addressed in this update
From now on, you'll have an immediate view of your upcoming tasks and meetings for the day
If you get an incoming call, key contact details for any matched phone numbers in your HubSpot portal will automatically pull through and display
There is now automatic prompting to log incoming and outgoing calls
The keyboard is a game changer - it means you can start using templates and dropping snippets into any of your comms, no matter what app you're using.
Why we're so excited about this:
Simply, this is awesome. The HubSpot app is already pretty dang good already, but these features will make it even better. We love the way it prompts tasks and notes to be added post calls. This is asking the salespeople to capture data when its fresh and then seamlessly set up a task to follow up. To be able to use the meeting link, snippets and templates will make things even faster and easier to update data is a game changer. We're super pumped to see how it will display meetings and upcoming tasks.
Because our phones are the piece of technology we use the most, it's important the HS app delivers a seamless experience into our CRM - and access to that data. We can't wait to use these functions on my own leads and then demo for our clients and prospects!
4. Add Manual Email Sends as Steps in a Sequence
(available in Sales and Service Hub Enterprise)
Sequences are a brilliant way to save time and automate your follow-up processes, but sometimes automation lacks that human touch. This update finally allows a step for that really essential human connection to maintain relationships.
Tailor your outreach when the time's right. Now you can add manual email sends as a step in a sequence. When it comes time for the email to be sent, you'll be prompted with the email template to personalize or tweak the message based on what's relevant in the moment. - HubSpot 2020
What this means for our current and future clients:
You'll have the best of both worlds - automation where you need it, with the ability to take control and have a human touch when relevant
We have a lot of clients who wanted a bit more control when it came to sequences. With this new feature, when a task is created said task has a button which opens an email against the contact with a template pre-loaded. This gives you all of the automation and streamlining of sequences, but with the control to tweak your email in case things have changed since you started that sequence
Why we're so excited about this:
Sequences are awesome! We use them all the time to;
make our team look like a keen a diligent sales people
make sure we're following up and giving our leads the relevant collateral
check if leads are even interested before we invest too much time into "tyre kickers" or low value MQL's


It's really important that these are personalised and not just shoot and spray. Sometimes it's easy to just bulk enrol a group of contacts into a sequence. We all know that's not the best practice, right? Well this function ensures your salespeople don't just "set it on autopilot". Adding a manual email send will ensure the sequence has that personal touch. We truly believe this will increase conversions and are pumped to give this a go!
5. Add LinkedIn Sales Navigator Tasks as Steps in a Sequence
(available in Sales Hub Enterprise)
LinkedIn InMail is increasingly becoming a commonly used sales tool, so naturally, HubSpot has adapted to integrate their CRM to align with LinkedIn InMail seamless, and even add actions like connection requests and InMail to sequences.
"LinkedIn Sales Navigator is a powerful tool that helps sales teams tap into LinkedIn's network of 660M+ professionals to find and build relationships with prospects and customers alike and with the latest update to the LinkedIn Sales Navigator integration, sales reps can now add LinkedIn Sales Navigator steps to a sequence." - HubSpot 2020
What this means for our current and future clients:
With the latest updates to the LinkedIn Sales Navigator integration, you can seamlessly send LinkedIn connection requests and InMail from the HubSpot contact record while running a task queue.
With a LinkedIn Sales Navigator subscription, you can now send connection requests and InMail natively from Sequences
These are only a few of the ways that Sequences has gotten better - it's quickly becoming the new home base for orchestrating your sales process
Why we're so excited about this:
We all know that LinkedIn is a happy hunting ground for lead generation in the B2B space. Well, now HubSpot's LinkedIn integration and sequences just "teamed up" to give you even more powerful lead gen tool. If you have customers looking to surface and nurture leads in that B2B space, this function will be an essential update. We're so revved up about this one (even though we aren't looking for more leads at the mo) and have just turned on our Sales Navigator license again so we can test it out as soon as its released.
To wrap it all up
This is one HUGE year for HubSpot, and all clients currently working within Sales Hub. We're absolutely pumped for all of the new features and are across how we can leverage them to create better experiences for our clients and their customers.
If you'd like to book in a chat around how we can help you to get the most out of HubSpot this year, click the link below.